Hydraulic filters you can trust
Hydraulic systems have become more and more advanced, with the need for closer tolerances, faster cycling times, higher pressures and extended service intervals, so the hydraulic filter has become a critical component. Baldwin and Filtrec hydraulic filters are designed to maintain system cleanliness and thus help keep the equipment reliable and efficient.
Proper filtering starts with selecting the right filter based on the equipment manufacturer's recommendations, which include:
The type of hydraulic oil used and the system operating pressure.
The oil pressure required for system operating efficiency.
The amount of resistance to oil flow caused by the filter.
The amount of pollutants the filter must be able to expel and hold on to meet service interval expectations.
The level of filtering (hydraulic oil purity level) required by the specific application.
In addition to these factors, our manufacturers take into account that hydraulic systems use more filters than ever before.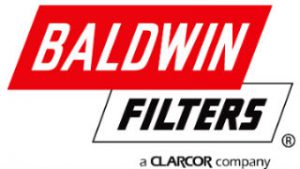 Teknisk salg AS can supply hydraulic filters from solid manufacturers such as, Baldwin and Filtrec Filters (Manufactured in USA and Italy). Only from Baldwin Filters we offer more than 850 hydraulic filters.
We supply to industries such as Industry, Construction / Transportation, Maritime, On / Offshore and Food / Pharmaceutical Industry.
With us, your company can get a complete filter setup for all machines and equipment, as well as good solutions to any filter issues.
Maximum performance
Baldwin filters are manufactured to meet or exceed original specifications established by equipment manufacturers. ISO 16889 tests show that Baldwin hydraulic filters exceed standards for particulate removal and capacity to efficiently capture trapped contaminants. The product comparison you see when you click on the chart illustrate Baldwin diesel filter's superior performance.