Fuel filter for all industries
Technical Sales AS has a wide range of products within the fuel filter and water distribution for Construction / Transport and Ship / Offshore. Everything from regular screw filters and filter elements to filters with water separators and coalescer / absorbent elements.
Our main brands are Baldwin Filters, Parker Racor and Stallion.
Here's an example of the turbo series for Racor: FG500, FG900 and FG1000.
This series of turbine filters / separator filters is widely used for larger marine engines. Separator filter's tasks are to remove particles and water before they reach and damage important components of the engine.
Maximum protection – Fuel systems are exposed to high risk of pollution all the way from tank to engine. Diesel filters protect sensitive components of the fuel system, such as injection pumps and injectors from harmful contaminants by removing:
■ Water – destroys lubricating properties in the fuel, damaging fuel systems, resulting in blockage at cold temperatures.
■ Mushrooms and bacteria – (diesel animals) block fuel filters, produce hydrocarbons and spread rapidly in the presence of moisture.
■ Extensions – (non-combustible materials).
■ Particles – (black, tar-like contaminants) that block the diesel filter quickly.
■ Wax – adds energy to diesel; However, in cold weather, the adult dicks and stops or stops fuel delivery.
Together with Baldwin Filters, we offer more than 650 different fuel filters and fuel / water separators that cover most applications. Baldwin is one of our main brands and is widely used when it comes to fuel filters and separators. We recommend Baldwin filters to all industries.
Technical Sales AS offers filters for most industries. We supply to industries such as Industry, Construction / Transportation, Maritime, On / Offshore and Food / Pharmaceutical Industry. With us, your company can get a complete filter setup for all machines and equipment, as well as good solutions to any filter issues.
Maximum Performance Baldwin Filters produces high quality fuel filters designed to perform according to specifications specified by engine and equipment manufacturers. SAE J905 and ISO 19438 tests show that Baldwin diesel filters meet minimum standards for particle removal and capacity to efficiently capture trapped contaminants. The product comparison shown on the chart illustrates Baldwin diesel filter superior performance.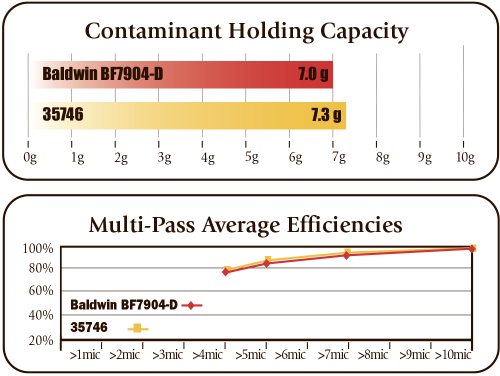 Do you have a smaller boat? We have everything you need
for the pleasure boat. Baldwin and Racor filters have a good
range for pleasure boats, for both outboards and inboard engines.